Everything You Need to Know About Jeans for Men
What to look for when buying jeans, how to style them and how to keep them in tip-top shape. Read on for our complete guide to men's denim.
Read more Men's Style Guide features.
Jeans. They're a staple part of any man's wardrobe and here at The Idle Man we believe that if you shop smart, you can pick up a few pairs of quality jeans that'll last you years. No matter what your budget or body shape, once you know what to be looking for you can easily find a pair that will properly suit you and your lifestyle in no time at all.
This guide will tell you everything you need to know about jeans from what you should be considering when buying, how to style them up and how to care for them to ensure they've got the longest life possible. We've covered it all so you can be rocking your stylish denim sooner than you first thought!
Buying Tips:
What Colour Jeans Should I Buy?
When it comes to colour, it's best to stick to the classics, a colour that you can wear season to season without any hindrance of a doubt that you'll never wear them again. Blue, black, grey and raw or selvage denim are probably your safest options when it comes to colour variations for jeans. These are classic colours that we see year after year, and, they will go with pretty much any outfit or colour you throw at them.
Blue Jeans
Blue denim jeans are the ultimate classic when it comes to looking for a pair of jeans. Steeped in history and practicality, they were the first colour variant to come out of the jean and denim world. The blue jean was made famous in the 1950's when Hollywood icons such as James Dean and Marlon Brando donned them in films such as The Wild Ones and Rebel Without A Cause.
What to Wear With Light Blue Jeans: Because blue is a great base colour to work around, you can pretty much throw any other colour you wish at them. Try wearing a classic white button down oxford shirt - this keeps the look classy and versatile whilst giving you a smarter appearance. Teamed with a pair of brown or tan shoes, such as desert boots, and you're keeping the colour pallet subtle and simple wich is often the best approach.
Grey Jeans
Grey jeans are a modern interpretation of the classic blue workwear centric jean. They were made popular in the 80's and 90's when the blue jean became slightly out of style and the emergence of the punk and grunge scenes saw the popularity of grey jeans skyrocket. Icons such as Kurt Cobain were often seen sporting a pair of slate coloured jeans with a variety of looks and, needless to say, rocked them to no end.
What to Wear With Grey Jeans: We're going to keep the look slightly more classic with a nod to the preppy side of life. Try wearing a blue button down shirt with your grey jeans. If you're wondering what shoes to wear with your jeans, try adding a slight break in the muted colours and throw on a pair of brown shoes, penny loafers would work perfectly with this look. Brown is a spot on colour to pair with neutral tones as it works with them instead of against like a brighter colour would.
Black Jeans
For an alternative approach to denim, then why not opt for a pair of timeless black jeans Their popularity grew in the mid-noughties, with the emergence of the black skinny jean, to become a classic mainstay in many men's wardrobes. These days, you'll struggle to walk down a high street without spotting them on about 50% of men... at least.
What to Wear With Black Jeans: Nothing beats a classic plain white t-shirt, and teaming one with a pair of black jeans is the perfect marriage. A monochrome look works perfectly with black denim, so, along with your white t-shirt, try wearing a pair of black trainers. Keeping the trainers black will add to the casual feel of this look while throwing in a few style points along the way. Finish the look with a black bomber jacket over the top to keep the look on trend for a daytime outfit, or change it up with a black leather jacket for an evening out.
What Style of Jeans Would Suit me?
When you're looking to buy a pair of jeans, there's everything from bootcut to skinny and every other style in between for you to  consider. The key is to know your body shape and what styles suits you. With this in mind, we've outlined all the styles for you to consider below and what body shape they'll best suit.
Skinny Jeans
Also known as super-slim fit or spray-on jeans, men's Skinny jeans are a style that typically quite tight from your crotch to your calf. These are usually made with some form of elastic in the material to give it that fitted feel, and to allow you to actually get them on!
The Best Skinny Jeans For Men: Plain and simple, skinny jeans don't suit every man, we all know skinny jeans for big guys just doesn't look good. As they're very tight around the leg, you'll need to be of a thin and tall build to pull them off. We're not all glam rockers from the 80's with their incredibly tight jeans, so it's best to only go for the skinny jean if you're particularly slight in frame.
Slim Jeans
Slim jeans are a slight gradient up from the skinny jean in terms of maneuverability. Whilst they are still a slim shape, they aren't as restricting or tight around the leg as a whole. Also known as a tailored fit or tapered jean, they offer a smarter, slim lined effect to your look without the skintight nature of skinny jeans.
The Best Slim Jeans For Men: The slim jean is a style that suits most body shapes. Because of the clean, yet not overly tight shape, they give you a slimmer silhouette over straight or wide leg jeans. Go for a pair of these jeans if you're of average body shape and build and looking to appear a little lighter. These will make your legs appear thinner as the material isn't tight across your legs, giving off the undesirable appearance that you can't fit into your jeans. Appear taller as well as slimmer, what could be wrong with that?
Straight Leg Jeans
Straight leg jeans are an option that suits pretty much any man of any body shape. With no tapering or fitted shape to them, they simply go straight down from the waist to the leg. Also known as a relaxed fit jean or comfort fit jean, they allow for extra room and generally give a more comfortable wear over the restricting skinny jean.
The Best Straight Leg Jeans For Men: These jeans suit men who are slightly larger around the middle or are of a stockier build. They give you a slimmer shape to your body and skim over the problem areas that you might have. Slim fit jeans are a particular favourite of older gentlemen as they're a classic shape that surpasses trends and styles.
Wide Leg Jeans
Wide leg jeans are something of a trend-led jean. Over the past few seasons, we have seen them become something of a menswear classic. No longer are we interested in the skinny shape that has been bombarding our wardrobes and runways for years, the current predilection is for that baggier fit and we couldn't be happier to see some change!
The Best Wide Leg Jeans For Men: If you're after a pair of wide leg jeans, then you can guarantee that they will suit you, no matter your shape. Because they taper out as they come down from the waist, you don't have to worry about them being a form fitting and tight pair of jeans. If you're on the stockier side of life then these jeans will be perfect for you as they will hide those problematic areas you probably don't like.
How to Get the Right Fit of Jeans
The most common question when men are buying a pair of fresh denim is 'how to get the right fit of jeans'. The fit is the one thing that will seal the deal or completely change your mind about a pair of jeans so it's important that you know what you're looking for.
When you first look at the label you'll see, for instance, 34R. This means you'll be 34 inches around the waist and regular fitting on the inside leg. You have three sizes in jean leg length, S, R, L (short 30", regular 32" and long 34") which determine your inner leg length.
Measuring yourself before you buy a pair of jeans is the easiest and simplest way of knowing what size you really are. Without sounding harsh, squeezing into a pair of jeans that simply don't fit is a little hard on the eyes and the self-esteem. So, measuring yourself properly will save a lot of time and heartache.
Styling Tips:
When you've finally decided on a pair of jeans, be it colour or style, you can always make them your own. The most common way of styling out a pair of jeans is through turn ups or pin rolling. This breaks up your look with, typically, a different shade from the inside of your jean as well as making the overall look a little more streamlined. A simple, classic way to add detail to your look without it being too overboard and fussy.
How to Turn Up your Jeans
Turn-ups are an easy and classic way of styling out your jeans. This is a nod to the 50's when the teenagers of the time would turn up the bottoms of their jeans to add a little bit of personality to their look. So, it's about time we tell you how it's done:
Using your thumb as a marking point, fold up the bottom of your jeans to the joint of your thumb.
Fold up once or twice more to your desired length.
Repeat on the other leg.
How to Pin Roll your Jeans
Pin rolling is slightly different to turns ups as you're going for a tighter fit rather than the loose turn up. The jeans you use need to have a little bit of slack at the bottom, so it's not going to work with a pair of skinny jeans I'm afraid. Go for a slim or straight leg jean if you want the perfect pin roll.
Once you've put your jeans on, pinch the outer edge and pulling them tight against the inside of your ankle.
With the piece that you've pinched, fold it back on itself creating a fold in your jeans.
Keep ahold of this fold and roll up your jeans once to keep it in place.
Roll them up once more and you should have achieved the perfect pin roll.
Repeat on the other leg.
Care Tips:
There are a few myths that surround washing a pair of jeans, so we're here to debunk those myths and tell you how you should be washing your denim every time. The great thing about jeans is that they don't need washing after each wear, you can wear them for about two weeks without giving them a good rinse through, providing on wear and stains of course.
Whether it's a pair of economical staples from our own collection or among the best men's designer jeans from Calvin Klein or Lee, it's always worth spending the time to learn how you should be caring for them. Keep reading for a few more tips on how to care for your jeans!
Denim Washing Tips:
Turn your jeans inside out. When you wash clothes the dye tends to run, so when you turn them inside out, the dye will run into the material rather than leave the fabric itself.
Avoid washing your jeans with other clothes, or, wash them with clothes of the same colour.
Don't use a high-temperature wash, as this may lead to shrunken jeans.
If you don't want to use a washing machine then fill a bath tub or large bucket with cold or lukewarm water and leave to soak for about 45 minutes to an hour. After, take them out and fully wring them out of excess water and detergent.
Avoid harsh chemicals or bleach. This will ruin the colour and leave you with a, probably unwanted, pair of acid wash jeans.
Never tumble dry them as, again, this will cause them to shrink. Always air dry your jeans, preferably in the sun outside.
How Should I Store My Jeans?
Storing away your jeans sounds easy, doesn't it? Well, you may have been storing them incorrectly. When storing your jeans, you want to avoid folding them up as this adds creases and can wear out the material. You'll want to hang up your jeans, whether it's hanging them up on the back of your door, or, investing in some decent trouser hangers to properly hang them up.
Always keep light denim together and dark denim together, dye can leak (as I've experienced) and it can cause your favourite lighter jeans or even clothing to be ruined.
- Lorna, The Jeans Blog
Hanging them gives you a worn or lived in affect to your jeans and also lets the material air out properly, giving you a fresh, odourless pair of jeans you can wear over and over again.
How To Care For Raw or Selvedge Denim
Caring for your raw or selvage denim is easier than you'd first think. At the end of the day, they're jeans, so you can pretty much clean them as you would a normal pair. You'll want to follow the same stages of cleaning as you would with regular jeans, but, many who are fans of raw denim suggests only washing your raw denim after the first 12 months.
For raw denim, people don't tend to wash them that often, sometimes 12 months until the first wash. So in between, it's good to use febreeze to keep them smelling a bit fresher. Be careful with your new raw denim jeans however, the dye tends to transfer onto other things when it comes into contact with them, so I'd avoid your mums cream sofa at all costs!
How To Break In Raw Denim
Here are a few tips and tricks to help you break in your raw denim for it to become one of the comfiest pairs of jeans you own.
Wear them every day.
Do some exercise in them, for instance, lunges or stretching in them.
Soak them.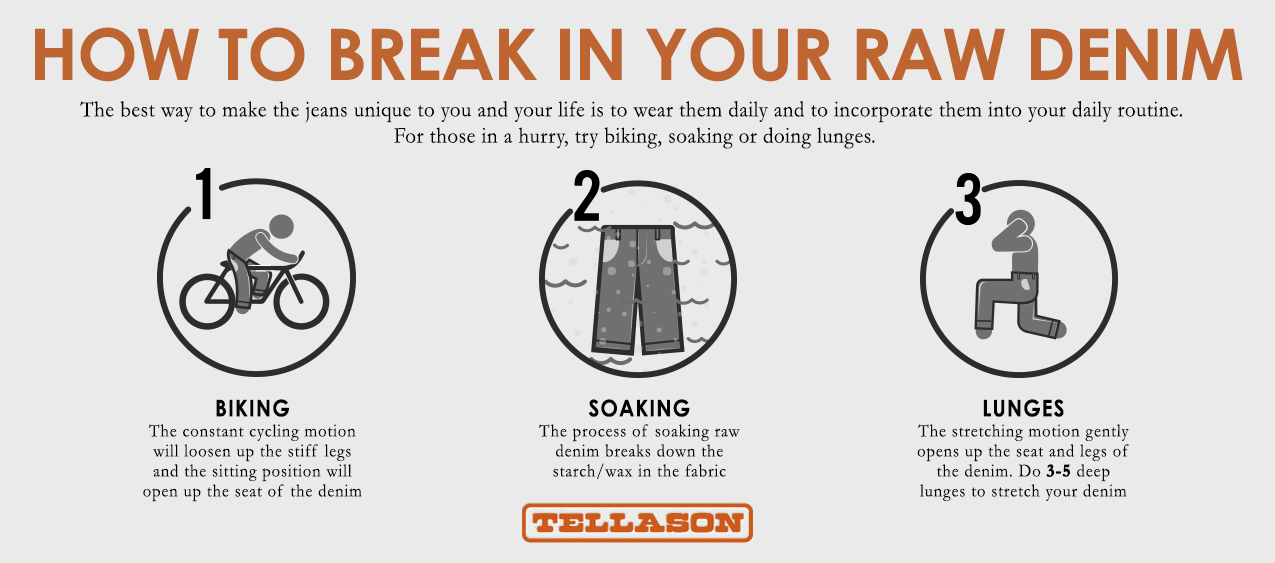 How to Shrink Raw Denim
There are a couple of terms that you need to know when you've bought yourself a pair of raw denim or selvage jeans - sanforized (pre-shrunk) and un-sanforized (in its raw cotton state). This means that the jeans themselves have either been pre-shrunk for a slimmer fit, or they have been left in their raw state, giving them a looser, more relaxed fit.
The reason why you'd want to soak sanforized raw denim is to remove some of the wax and starch that has been put into the jeans. Soaking them will loosen the fabric and give you a more relaxed fit, rather than a tight and rigid fit. Soaking your un-sanforized raw denim will do the opposite, shrinking the fabric, giving you a tighter, more form fitting shape to your jeans. This will shrink your jeans two or three inches in leg length, and a couple of sizes in the waist.
How To Do It:
Fill a bathtub or large bucket with water (cold water for sanforized and hot for un-sanforized)
Turn your jeans inside out and place them into the water, fully submerging them.
Leave them to soak for about one or two hours. You'll notice that the water may have turned murky from the dye, but worry not, your jeans will be fine.
Remove your jeans from the bathtub, and fully wring them out of all the excess water.
It's important that you air dry them thoroughly, do not put them into the tumble dryer. This will shrink them even more and you'll end up with a pair of jeans that will scarcely fit Action Man.
Your jeans will still be a touch rigid, but they will be easier to break in this way.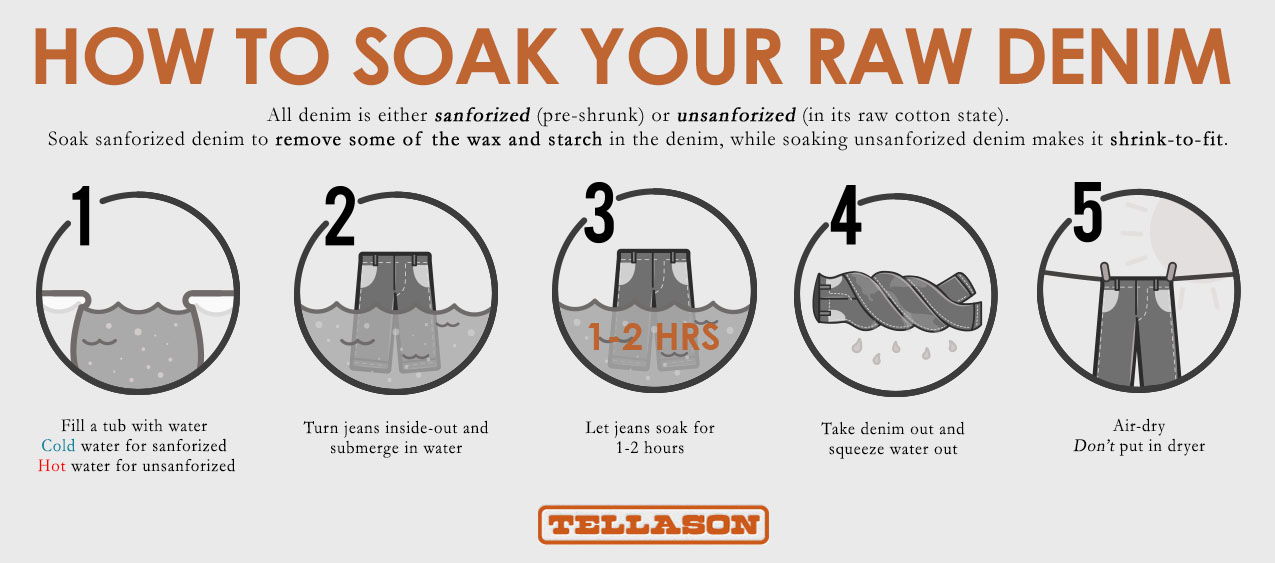 How To Clean White Denim
Now lads, don't run in fear of a pair of white jeans, they can be just as versatile and wearable as any other colour. However, if you do find yourself with a droplet of coffee or spaghetti sauce on your favourite pair of pearly white jeans, then there are a few measures you can take to get rid of the stain.
Take a brush and brush away the larger, more easily removed parts of the stain.
Then, take a damp cloth and some warm, soapy water and dab at the stain.
Never rub as this can lead to the stain getting larger and spreading.
If the stain is persistent, then throw them into the washing machine, on a cold wash, with some pretreated stain remover, and they should be sparkling again in no time.
Quick Guide on How to Wear Jeans
Team your blue jeans with a white oxford shirt for a smart classic look.
Black jeans look their best with a white t-shirt and leather jacket - the perfect marriage!
Grey jeans make for a great casual look when paired with a simple crew neck sweater.
With footwear, anything from trainers to Chelsea boots will suit depending on the occasion.
On That Note
Jeans are a versatile staple that every man should own. They have the ability to take you from a casual to a formal occasion with a few changes to your look. When you're buying a pair of decent jeans it's important to know what size you are exactly, this paired with all the knowledge above should leave you pretty clued up on how to go about grabbing yourself a lifelong investment.
With styling, whether you want to go for a classic turn up, or, go a little bit more modern with the perfect pin roll, you can always style out your jeans for that perfect look. Whichever jeans you decide to go for this season, make sure they fit and always keep them stylish.
Still looking for a little more denim inspiration? Check out our pieces on how to wear skinny jeans, what to wear with white jeans or how to wear a navy blazer with jeans for a few more style tips!