5 Key Points to a Great Lad's Night Out
29 November, 2018
Dress for an Event
When Friday and Saturday comes, it's likely you're going to be meeting the boys for a lad's night out. If you're a student, and not broke, then you might make it a more frequent event. But either way a lad's night out will be your best opportunity to try on some of your prime time casual outfits. Here's the guide to getting it right every time.
The key ingredients to a lad's night out (and probably in this order) are your mates, banter, booze, a nightclub and ladies. So you need to weigh up your outfit in this order.
1. Your Mates
Do you look to impress your mates with your get-up or not really care? If you want to be recognised as the style leader of the group, then the strongest talking points are usually jackets and shoes. Few men ever said, 'I like your jeans mate.' Almost every bloke has taken an interest in a killer jacket or new pair of trainers. Choose wisely, and beware of the next point.
2. Banter
For most of us, taking risks with your look or going formal on a lads night out will likely encourage endless rinsing of your outfit by your mates. We recommend the following to be avoided:
Double Denim: If you're tempted, by all means try it somewhere else, but you're more than likely to get a few jibes for 'going all cowboy'. Never go 'Canadian Tuxedo' under any circumstances.
Waistcoats: A high risk item - remember that you're not a snooker player. If you want to dress up your outfit, wear a jacket. For smarter clubs this could be a blazer.
Bright Contrasting Colours: Consider that deep combinations of opposing colours will look garish and thus a likely subject of hilarity.  
3. The Booze
Spillages and sweat, even in classier establishments, are a perennial danger. In anticipation of the former, avoid the following:
White Top Layers: Especially trousers and Oxford cotton shirts. You should be able to get around this with a dark upper layer.
Light Coloured Chinos or Jeans: As a rule of thumb stick to dark trousers – navy or black.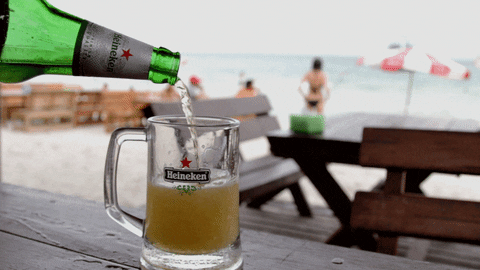 You might not think it'll ever happen to you, but if someone does knock a pint over you, or you get hammered and miss your mouth, then you'll have a stain on you that'll be near impossible to hide on anything light.
It's important to remember you're going to be on your feet all night, and the bar/club will likely get hot. In terms of layering, if you're setting out on foot on a cold night you might be forgiven for covering up with jumpers and coats, but you should only go for one layer under a base. That's a coat or jumper. Anything else and you'll likely get too hot and have to pay more for the cloakroom, else be doomed to a very humid evening.
4. Nightclub Dress Codes
One of the biggest pains in the arse ever invented was getting denied entry into a nightclub because of what you were wearing. And let's be honest: it's happened to all of us at some stage. Trainers are by far the most common problem here, although it's possible to receive a hand off for not wearing a collar or just looking like a tit.
Needless to say, a proper lad's night out needs the consideration of a dress code; the most clueless mistake you can make is to venture into town without a concrete plan, then be denied entry for what you're wearing. If in doubt, check ahead and get an understanding of the venues.
Bearing this in mind, the safest bet is almost always anything but trainers, jeans, and a long sleeve casual shirt or polo shirt. But it really depends on the context - you will look like a bit of a bellend wearing your finest brogues at a house night. Ticketed dance music nights barely ever need a dress code anyway, so trainers and t-shirt are perfectly acceptable.
5. Considering the Ladies
Broadly speaking, if you follow the suggestions above you would have avoided a lack of confidence, seriously compromising spillages and not even being allowed into a nightclub. Now what are the ingredients to pulling the girls? While we say fit is the most important basic component of fashion, we'll repeat it here. Your mates will likely let you get away with slightly ill fitting clothes, the ladies will think otherwise.
There also quite a number of tips for dressing for body shape that you should consider. One of the best ways of not looking like an arsehole is to avoid scoop neck t-shirts, if you've got particularly broad shoulders. If you simply couldn't care less and want to make your chest disproportionate to your waist, then knock yourself out - it's a free country (although you might not get in, because you didn't wear a collar).